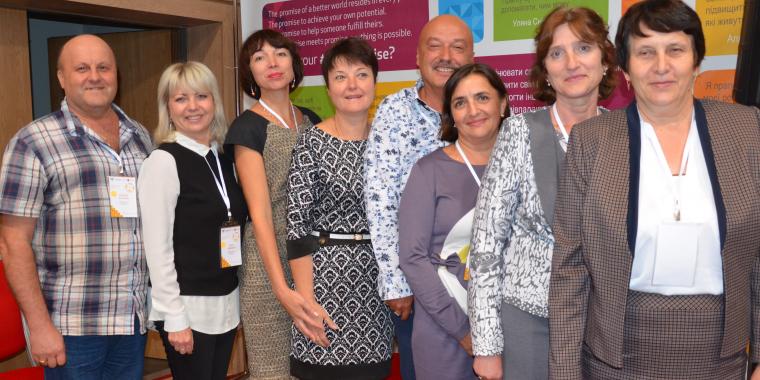 QI COLLABORATIVE OVERVIEW
To improve the continuum of HIV services, from HIV testing to linkage to care, treatment and support for PLHIV in the Kherson region, a Quality Improvement Collaborative was established in June 2015.
In February 2016, members of the Regional QI Implementation Group and local QI teams were approved by the order of the Head of Kherson Regional Healthcare Department. Between December2015 and January 2016, ten local QI teams were created around the existing ART sites.
Each QI team is comprised of the ART site staff, specialty physicians (STI, narcology and OB/GYN), their nurses, primary healthcare practitioners, and social workers of the regional NGOs "Mangust" and "XXI Stolittya".
In February-March 2016, two new ART sites were established with local QI teams around them.
Regional QI Implementation Group (RIG): Regional Coordinator – Yaroslav Zyatiuk, QI Mentor – Victoria Savchenko, Data Quality Mentor – Tetiana Rezvyh.

Evidence-based Interventions Supported by RESPOND

Site

Intervention and NGO

PWID Partner's Health,
"Mangust"
Charitable Foundation
PLHIV Partner's Health
"XXI Stolittya"
Charitable Foundation
Kherson
X
X
Kakhovkа
X
X
Nova Kakhovka
X
X
Tsyurupynsk
X
Skadovsk
X
Velyka Lepetykha
X
X
Gola Prystan
X
Velyka Oleksandrivka
X
Milestones of the QI Collaborative in the Kherson Region
As part of the QI collaborative to reduce the gaps in the cascade was taken the following steps:
On June 24, 2015, the MOU between RESPOND, UCDC and Kherson Regional AIDS Center was signed to improve HIV care and treatment using the QI methodology.
On October 14-15, 2015, a regional meeting was conducted for 45 healthcare managers and representatives of medical facilities and NGOs. Participants were introduced to the QI model and identified key areas for improvement of the treatment and care for PLHIV in the Kherson region.
A training session for 11 QI coaches was conducted on November 23-25, 2015.
The QI Charter was developed and signed on December 21, 2015. It was approved by Kherson Regional Healthcare Department, Kherson Regional AIDS Center, "Mangust" Charitable Foundation, regional branch of the All-Ukrainian Network of PLHIV, and Kherson Regional Center for Family, Children, and Youth Social Services. The QI Charter includes the gap analysis, changes to be tested, and improvement activities.
The first regional QI learning session was conducted for 11 QI teams/50 people on March 30-31, 2016.
On April 25-27, 2016, RIG and the best local QI teams took part in the first cross-regional QI learning session in Kyiv.
Ten computers were purchased for ART sites for running the Simplified Treatment Management Application (STMA) database.
Trainings on HCT and HIV/TB were conducted for the 19 teams of healthcare practitioners in May-June, 2016.
The second regional QI learning session was conducted for 12 QI teams/50 people on July 7-8, 2016.
Information materials on HCT and HIV treatment for patients and physicians were provided by RESPOND.
RIG and the RESPOND staff regularly conduct QI mentoring visits to local QI sites (over 60 in the period of November, 2015 – December, 2016)